Playa del Ingles - Tourist information & resort guide
Playa del Ingles Beaches Description of Playa del Ingles Location of Playa del Ingles Nightlife in Playa del Ingles Restaurants in Playa del Ingles Shopping in Playa del Ingles Transfer time Transport
Playa del Ingles - Tourist information
& resort guide


Playa del ingles beach panorama with San Agustin in the distance
Shown is the northern end of the beach, in the other direction the beach continues for 6 kilometres to Maspalomas gradually widening to 1.5 kilometres at Maspalomas Sand dunes
Location of Playa del Ingles
On the south coast of Gran Canaria , one of the Canary Islands, Spain.
Transfer time Airport - Playa del Ingles
The package holiday transfer time from Gran Canaria Airport is 35 to 45 minutes
Description of Playa del Ingles
Playa del Ingles is the largest resort on Gran Canaria,with a vibrant nightlife to suit all tastes and is particularly popular with couples and groups. It is crammed with cafes and restaurants serving a variety of cuisines.
Couples and groups of friends flock to Playa del Ingles, keen to enjoy the invariably sunny skies, sandy beaches and windsurfing conditions. Conveniently located approximately 30km from the airport, this resort offers a host of amenities to satisfy even the most discerning of visitor
Playa del Ingles is a purpose built resort being built with tourism in mind. The entire resort is on mass of Hotels, apartments, shops, supermarkets, bars, clubs, cafes and restaurants. The section of the resort that is on the inland side of the main highway is where the spanish live. Shops in this area are cheaper, but English is not usually spoken unlike the shops in the tourist area.
Photograph showing the beach at Playa del Ingles. Behind the beach is a busy promenade,with an array of cafes and bars to supply your lunchtime snack or sunset cocktail or drink. Many hotels situated away from the beach provide regular courtesy buses. These hotels tend to be nearer to Playa del Ingles nightlife. At the far end the beach Maspalomas towering dunes.
Facilities in Playa del Ingles
Playa del Ingles Beaches
The beach at Playa del Ingles is backed by a busy promenade, in a prime position for that lunchtime snack or sunset cocktail! It is reached by steps and roads and several hotels lay on regular courtesy buses. Wander along to the mile wide expanse of the Oasis of Maspalomas with its towering dunes, which sweep gently into the sea.
Some areas of Playa del Ingles are hilly and access to the beach can be difficult for the less mobile.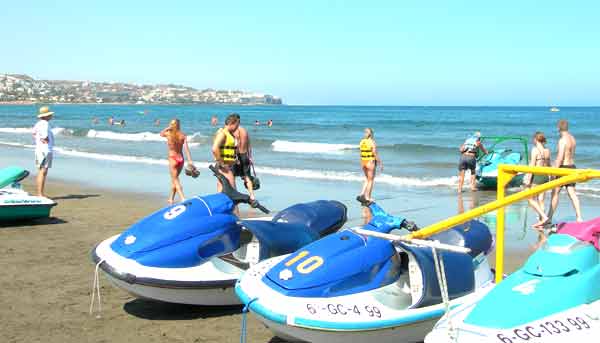 Jet Ski from Playa del Inglees beach, Gran canaria, Spain

Playa del Ingles Bars and Nightlife
List of Playa del Ingles Bars, Discos and Clubs List of Playa del Ingles GAY Bars, Discos and Clubs
A lively resort with the many bars, clubs and restaurants that make Playa del Ingles one of the busiest resorts in Gran Canaria. Most are located in the Commercial Centers (Shopping centres) but others can be found on the main roads.
The Kasbah shopping centre, Metro shopping centre and Plaza de Maspalomas shopping centre, which are next to each other are the centre of nightlife and also the Yumbo shopping centre with several comedy drag shows and the Cita shopping centre for Girlie shows.
The 2 shopping centres for Gay nightlife are the shopping centre, easily the leader and the Cita shopping centre. Further information for gays see Gay Yumbo and Gay Cita
The above mentioned are the livelier centres, but all the shopping centres in Playa del Ingles have a selection of bars & restaurants, providing music, entertainment or are quieter for customers who want to totally relax on there holidays, and usually a few livlier bars..
Kasbah Shopping centre - Playa del Ingles
This is the best place on Gran Canaria for nightlife
- it's great for partying.
Shopping in Playa del Ingles
Playa del Ingles has the look of a city, its bustling streets lined with hotels, shops, and cafes, and its visitors come from all over Europe. There are several shopping complexes in the centre of town, including the ever-popular Kasbah.
Shopping centres are called Commercial Centers in Spain. Commercial Center is often shortened to CC or C.C. especially on maps

is the main Gay nightlife centre in Playa del Ingles. The Yumbo host some bars with excellent comedy drag shows which attract a large audience with more hetrosexuals than gays
has a very large number of Restaurants and Cafes. In the basement there are girlie bars and gay bars
Playa del Ingles Restaurants
List of Playa del Ingles Restaurants
Everyone, even families, can find a quiet nook to have something to eat here. The choice of cuisine is vast and there is something to suit all palates. Some of them overlooking the main section of Playa del Ingles beach
Playa del Ingles Transport - Local Buses
Bus Stops in Playa del Ingles:
Popular Bus Routes:
More information on Bus routes Southern Gran Canaria
Gay
Gay Nightlife
The 2 main gay nightlife areas for gay bars and gay nightclubs are:
More information Gay Yumbo centre
More information Gay Cita centre
Gay and nudist beaches
Roughly mid way between Playa del Ingles and Maspalomasis the nudist beach is at Number 6 cafe and the gay beach is at number 7.
The dunes are a popular cruising area and are patrolled by the police, some on quad bikes or jeeps. The police are there to ensure the safety of the tourists, gay or straight, and are very broad minded.
Tourist information Office
There are 2 Tourist information Offices in Playa del ingles. The location of both information offices is shown on our Playa del Ingles Map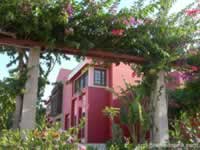 Tourist information Office at Yumbo Shopping Centre
The main Tourist information Offices is located next to the main entrance to the Yumbo Shopping centre, on the corner of Av. de Espana and Av. de los Estados Unidos
Address: Avda. España - esquina con Avda. EE.UU. (Centro Comercial Yumbo) , 35100, Playa del Inglés (San Bartolomé de Tirajana)
Telephone: 928 771 550
the other one is located in the Anexo II shopping centre on the beach front.
Address: Paseo Marítimo - Centro Comercial Anexo II Local 20 , 35100, Playa del Inglés (San Bartolomé de Tirajana)
Telephone: 928 768 409
Many maps show another information office through the Riu Palace Hotel at the bottom of Av. de Tirajana on the path to the dunes. This is an information office for the Maspalomas Sand dunes nature reserve, and is very rarely open.
Address: Avda. de Tirajana (Bajo del hotel Riu Palace Maspalomas) nº1 , 35100, Playa del Inglés (San Bartolomé de Tirajana)
Telephone: 928 765 242
Maspalomas Sand dunes
As you head south west along the Playa del Ingles beach you find that the beach is widenening all the time, and tranforms fom a beach to a beach backed by sand dunes. Before you reach the southen tip you can see the vast Maspalomas Sand dunes stetching out to the West up to the restaurants and bars next to Maspalomas beach.
The walk along the sea edge infront of the sand dunes is extremly popular with a parade of tourists walking in both directions. In you do not want to do the full return journeys there are plenty of buses running between the 2 resorts


Aireweb Web designers Leeds UK
© Copyright 2004
just-gran-canaria.com - Just Gran Canaria - Tourist information, attractions, hotels, apartments, holidays and flights to Gran Canaria, Spain