Gran Canaria Airport ( LPA )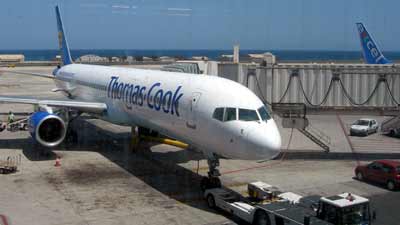 Thomas Cook plane Gran Canaria at Gran Canaria airport
Gran Canaria Airport Location Driving to airport Car Parking Car Hire Transport information Help Desks Airport Facilities at Gran Canaria Gran Canaria Airport Disabled Facilities Gran Canaria Airport Hotels
See Also our Flight information page
Address and Location
Gran Canaria Airport Address
Gran Canaria Airport, Telde 35071, Gran Canaria/Las Palmas, Islas Canarias, Spain
Gran Canaria Airport Location
The airport is located on the east coast of the island of Gran Canaria, 18km (11 miles) south of Las Palmas and 25 kilometres from the main southern tourist resorts in Gran Canaria
Driving to airport
The airport is well signposted. Access to the airport is from the from island's main north / south motorway GC-1 which goes to Las Palmas
Airport facilities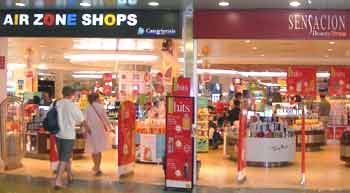 Gran Canaria Airport Shops for duty free shopping
Unlike the rest of Spain the Canary Islands are duty free. There fore the Duty Free restrictions, 200 cigarettes, 1 litre of spirt, etc. apply on arrival back in the UK
Shopping, cafes and bars are all located in the Departures Lounge, the ideal way to get rid of those remaining Euros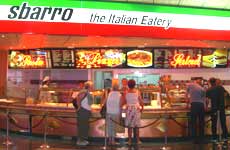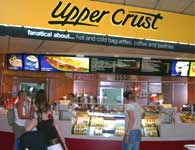 Sabro cafe Gran and Upper Crust cafe at Canaria airport departures
Money and communications
Ground Floor (Arrivals)
First Floor (Departures)
Bank Open 0800-1415 Monday-Friday
ATMs are situated on the first floor
Bureaux de change (EU Zone)
Bureaux de change
Shops The usual Airport gift shops and Duty Free(Boarding Area)
Medical Services near EU zone
Chapel International zone
Cash and credit card telephone booths, cafes, bars and fast food outlets.
Disabled facilities. Lifts and ramps in airport and Disable spaces on all levels of the car park
Tourist information Office
A Tourist information Office is located at the airport
Address: Llegadas Comunitarias- Puerta A. Aeropuerto de Gran Canaria , 35230,
Telde e Ingenio Telephone: 928 574 117

Car Hire
Avis Car Hire, Hertz Car Hire, National Car Rental, Skycars Car Hire are available on Gran Canaria. Pick up at the airport - Most Desks can be found on the ground floor, in the walkway connecting International and EU Arrivals.
Airport Hotels
There are no hotels at the Airport the nearest is only 5 minutes away and others are nearby.
Hotel Vecindario Aeropuerto Gran Hotel is the nearest(tel: 902 172 182)
Reina Isabel
Tryp Iberia
Quality Hotel Fataga
Hotel Concorde
AC Gran Canaria
Car parking
Short- and long-term parking is available in front of the terminal building with almost 2000 spaces for cars.
Terminal
Gran Canaria Airport has 1, three floor terminal
Ground floor Arrivals
First floor Departures
Arrivals and Departures are divided into 3 zones
A. European Union
B. International
C Inter-Island
Help Desks
Information help desks are located on level 1 of the airport and there is a tourist information helpline (tel: (0)928 579 130).
Disabled facilities
Lifts and ramps in airport and Disable spaces on all levels of the car park. Contact your airline if you require wheelchairs or other assistance before you travel and I would suggest before you book.
Airport Transport
Package Holidays
Most tour operators arrange transport for their clients. The trend isnow not to include this in the advertised price and to charge for this service as an extra. Thischange is useful if you prefer to hire a car or use a taxi. Look for your tour operators rep as you leave customs. The rep will check your name against there list and direct you to your transit coach.
Taxi
Taxis are available from stands near airport arrivals.
Buses
Buses run from near to arrivals outside Zones A and C. There are frequent bus services between the airport and the capital, as well as other destinations on the island. For more information contact GLOBAL (tel: (0)902 381 110).
Bus no.60 runs to Las Palmas for Parque de San Catalina and Parque de San Telmo.
Bus no.66 runs to Faro de Maspalomas.